Hi folks, welcome to the course! So excited to have you here!
Make sure you register for the weekly webinars starting Thursday November 26th at 7pm New York time.
Once you register, you are registered for ALL sessions, there's no need to register each time. Also, you will get a reminder email, just in case you forget when the next session is.
https://us02web.zoom.us/webinar/register/WN_kp345l4ITl-Cc7aZUHm4rg
Feel free to contact me anytime with questions. The best way is via Discord:
Enjoy the course, I know you're going to love it and I'll talk to you soon!
TRADING PLANS:
FLOWCHARTS:
BEGINNERS SECTION:
ARTICLES
Iron Condor Introductory Course
Everything You Need To Know About Iron Condors
Everything You Need To Know About Calendar Spreads
Everything You Need To Know About Butterfly Spreads
Contango and Backwardation Explained
VIDEOS
5 Step Blueprint to Options Trading Success
Interactive Brokers Risk Navigator Tutorial
Interactive Brokers Credit Spread Tutorial
SPREADSHEETS:
Position Sizing Guide:

Strategy Selection Guide: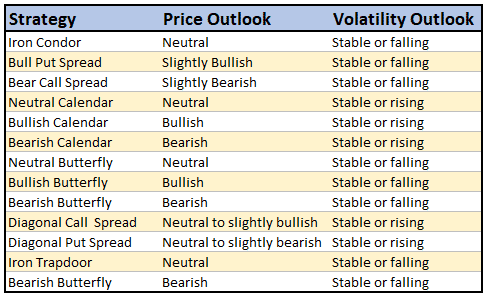 Webinar Replays:
CASE STUDIES:
AMZN Bull Put Spread – Closed for +$132 or 15.70%
CRM Bear Call Spread – Closed for +$72 or 8.47%
GS Calendar Spread – Closed for +$193 or 25.73%
MSFT Bull Put Spread – Closed for +$110 or 12.94%
SPY Bear Call Spread – Closed for +$56 or 13.05%
CRM Diagonal Put Spread – Closed for +$24 or 2%
GS Butterfly Spread – Closed for +$179 or 34%
ROKU Diagonal Call Spread – Closed for +$88 or 2.87%
TTD Neutral Calendar – Closed for +$501 or 30.87%
TTD Double Calendar – Closed for +$592 or 21.53%
IRON CONDOR MASTERY
module 1:
Everything You Need to Know to Successfully Trade Iron Condors
module 2:
Iron Condor Trade Examples – What Works and What to Avoid
module 3:
Iron Condor Tips, Tricks and Rules (Including How to Trade With a Small Account)
module 4:
Adjustment Master Class – Step by Step System For Getting Trades Back on Track